In September of 2010 Linda and I realized a dream of ours when we traveled to southern Africa for photo safaris in South Africa, Botswana and Zambia. In South Africa we stayed four days at the Elephant Plains lodge in the Sabi Sands area adjacent to Kruger National park. In Botswana we joined a mobile photo safari sponsored by Wilderness Travel and spent 15 days traveling through the Okavango Delta and Chobe National Park photographing wildlife. We ended our photo safari at Victoria Falls in Zambia. Traveling to Africa and going out into the bush for a couple of weeks is a bit of an undertaking, but our trip met all out expectations and more. We were so thrilled with it that we returned to Africa in 2012 to do a similar safari in the Serengeti in Tanzania. East Africa is geographically much different than southern Africa and we really enjoyed the great migration of animals across the Serengeti.

This web journal chronicles our trip as we traveled to different locations, from our arrival in Johannesburg, South Africa, to our departure from Livingstone, Zambia. It discusses our activities at each location as well as providing photo slideshows and galleries of the area and its wildlife. Just click the links below for each location.

Photo Galleries for our time in each country are available online

Thankyou for visiting our site.

Elephant Plains Lodge in Sabi Sands area (click on map for interactive Google map)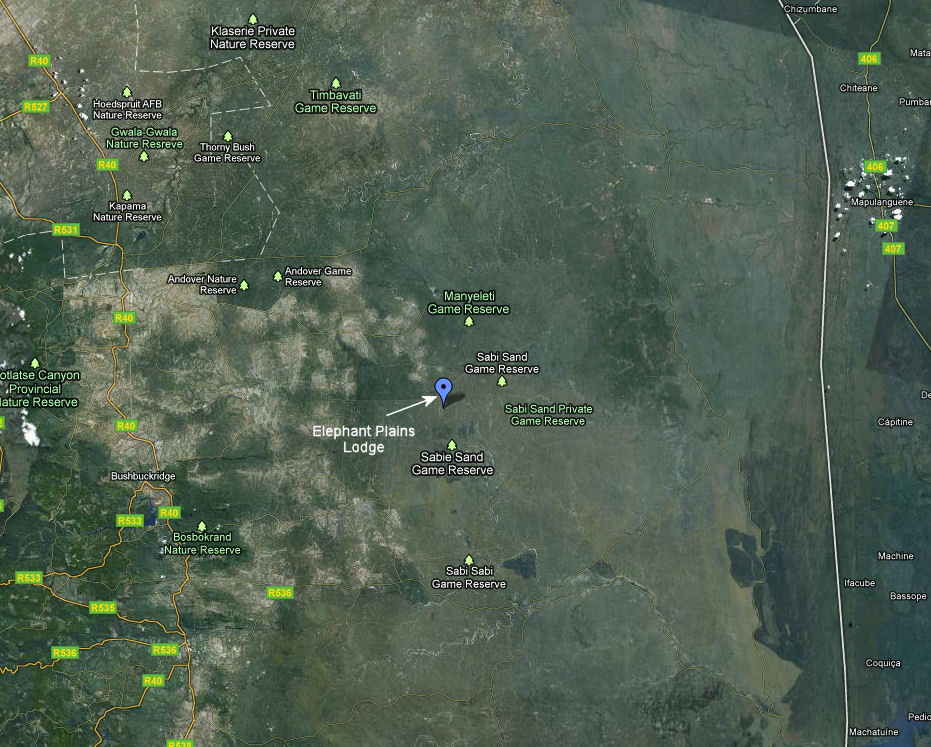 Mobile photo safari route through Botswana and Zambia (click on map for interactive Google map)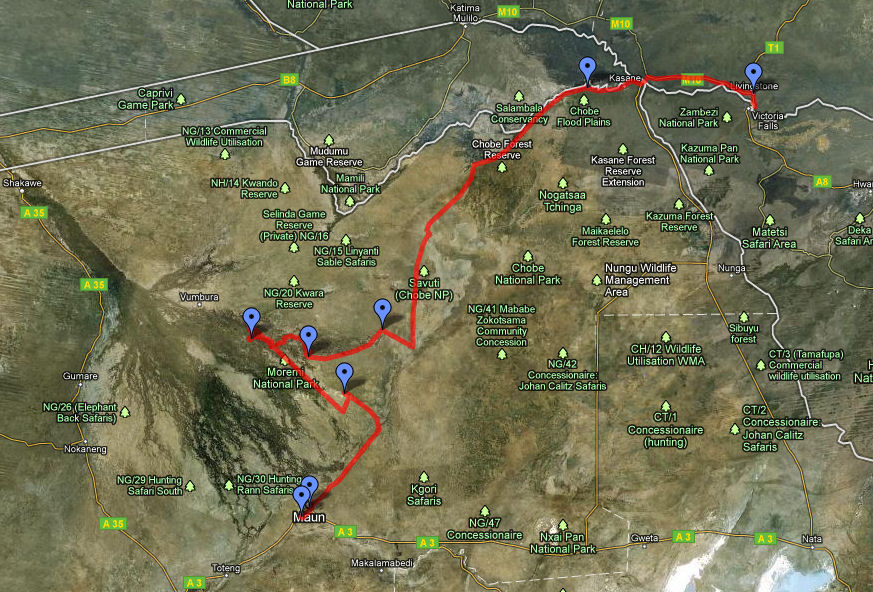 Photography
The focus of this trip was photography of the African wildlife and for the photographers reading this, I thought I'd speak to some of the photographic considerations of the trip. In order to maximize the images, it was important to take the right gear. For this trip, I took the following gear:
2 x Nikon D300 DSLRs
1 x Nikon D200 DSLR
1 x Nikon 16-85 mm lens
1 x Sigma f/4 100-300 mm lens
1 x Nikon f/4 500 mm lens
1 x Nikon f/1.8 35 mm lens
1 x Sigma f/2.8 105 mm macro lens
1 x Gitzo tripod
Kinesis photo bean bag
When photographing wildlife in Africa it is important to have the ability to cover the entire range of lens focal lengths, from wide angel for landscapes to super telephoto to capture wildlife at a distance. With a mobile safari in the bush there is a lot of dust which means it is preferable to minimize changing lenses to prevent dirt getting on the sensor of a digital SLR camera. The best way to do this is to use multiple camera body-lens combination to cover wide angle, medium telephoto and super telephoto. Using all of this gear presents some real logistical problems and it is really important to have a good quality bag that can accommodate all the equipment and protect it from the elements. On this trip we traveled through the bush in specialized 4 wheel drive vehicles that either were open on top or had roof hatches that made it possible to shoot out of. With three separate camera-lens combinations, it was important to keep them at hand to catch every opportunity, but also protect them from jostling in the vehicle while traversing the rough bush tracks and also the dust. For that I used soft padded pouches. Photographic opportunities varied from animals at a distance requiring the supertelephoto lens (used the bean bag to support that), to animals rubbing up against the vehicles requiring very wide angle focal lengths. Mobile safari challenges all of your photographic skills and equipment, but the images it allows you to capture are fantastic. Over the three weeks we were in Africa I shot over 12,000 images. I shoot everything in Nikon raw format which requires processing every image individually. It took approxiamtely 9 months for me to get all the images processed and culled with a final count of 5300 keepers. Alot of work, but worth it to this photographer.